Crafting a colourful space you'll love for years to come
Crafting a colourful space you'll love for years to come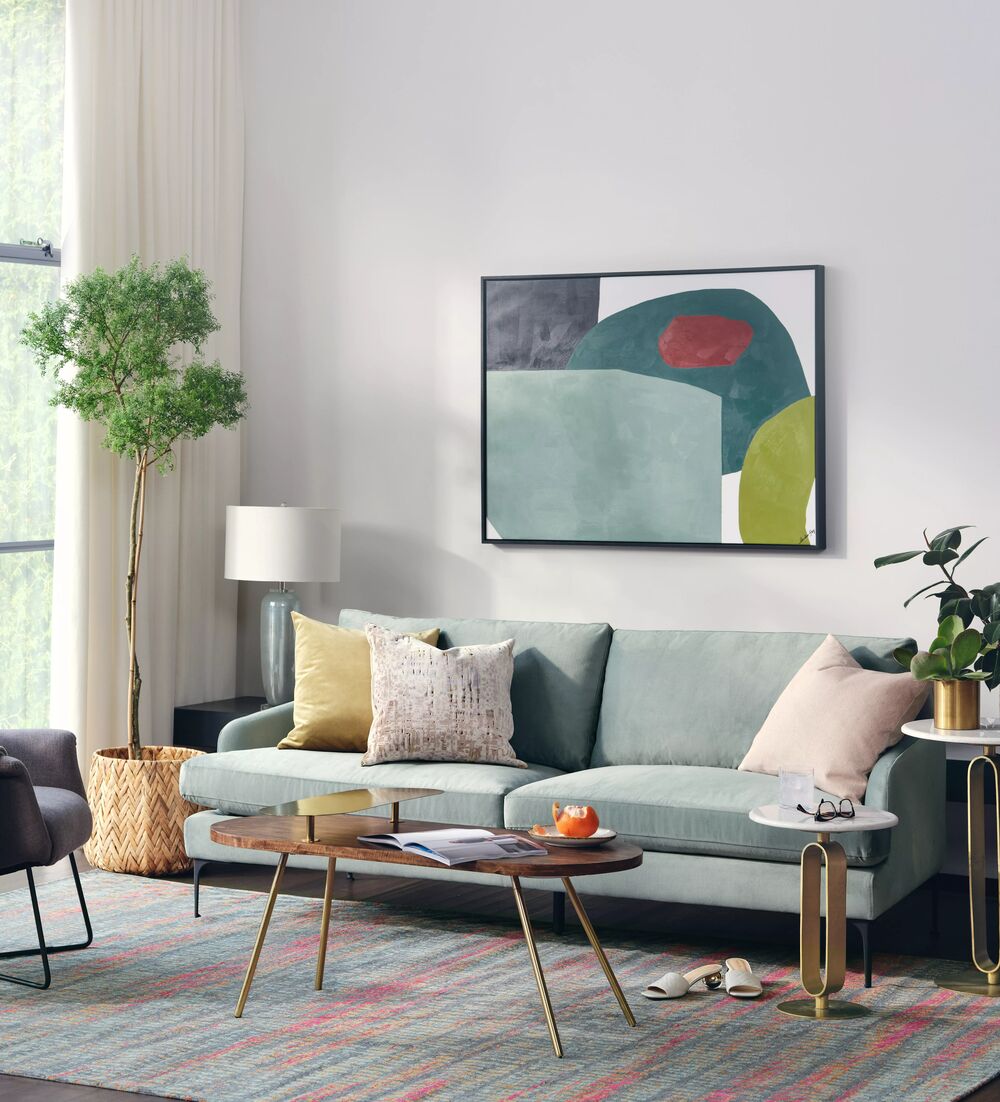 GlucksteinHome Monroe sofa, Zana coffee table, Monroe nesting tables, Monroe area rug
If you know Brian Gluckstein, you know that he's renowned for his timeless neutral interiors. But the designer is also an expert at using colour to create a thoughtfully designed, trend-proof space. In this stylish living room, we see colours take centre stage in a beautifully balanced way. It's a happy space that's decorated with colour and a room we can see ourselves living in for years to come.
So how exactly did Brian create this fresh and colourful yet liveable space? We're sharing a few of his tips to incorporate colour into your space like a pro:
1. START WITH THE ART AND RUG
Starting with larger pieces like the art and rug can help you lay the groundwork for decorating the rest of the room. Draw on coordinating colours from these pieces to help you determine upholstery and paint finishes for a balanced, well-crafted space.
2. CREATE A MOODBOARD OF WHAT YOU LIKE
Start a Pinterest board or Saved collection folder on Instagram of colourful rooms you love. This will allow you to organize your thoughts and give you a clearer vision for the design of the room. Reflecting on what you've collected and identifying common themes in your saves will be a helpful indicator of what you really want.
3. TAKE NOTE OF YOUR SURROUNDINGS
When choosing colours to decorate a room, it's important to take note of the surrounding exterior. Is there a red brick building that will cast warm hues through your window or plenty of trees that will add coolness? Even for the most confident of designers, it's a good idea to buy tester pots of paint to see how it reads in the room before investing plenty of time and money.
4. COLLECT MATERIAL SAMPLES
Think of them as tester pots for fabric. Collect swatches of upholstery, drapery, and cushion options to test with one another and make sure your finishes coordinate with each other as well as connect back to larger pieces like the area rug and artwork.
5. THINK ABOUT THE LIGHTING
Particularly when decorating with colour, the colour of your light bulb can affect how colour looks in the space. We typically want warmer bulbs in spaces where we're going to spend time relaxing, like the living room or bedroom, whereas cooler lights improve focus in working areas like an office or kitchen. Test out your lighting against fabrics and paint to make sure you're happy with the final result.
Photography courtesy of Hudson's Bay